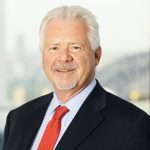 CEO and Founder
New Forests
David Brand is the Chair and CEO of New Forests. New Forests, founded in 2005, is a sustainable forestry investment manager offering leading-edge strategies in forestry, land management, and conservation with more than USD 4 billion in assets under management. David has over 35 years' experience in timberland investment, forest management, science, and public policy. David is dedicated to innovative, responsible investment strategies in the forest sector that address climate change mitigation, community development and expanding the use of sustainable renewable materials in society.
Previously, David was responsible for investment programs that integrated timber management with emerging environmental market opportunities at Hancock Natural Resources Group (HNRG). Prior to joining HNRG, David was the Executive General Manager of State Forests of NSW where he led pioneering transactions in the commercial development of environmental markets.
From 1985-1995 David worked with the Canadian Forest Service as a scientist, director of scientific programs, and ultimately as national Director-General of Science and Sustainable Development. He serves on the Board of Directors of the Washington, DC-based non-governmental organisation Forest Trends and on the Board of Trustees of Bangkok-based Intergovernmental Organisation, The Centre for People and Forests.
David has a PhD from the University of British Columbia and a Bachelor of Science in Forestry from the University of Toronto in Canada.
Invest in the Environment by attending
this high-level gathering of public, private, and philanthropic communities in forestry, carbon, ecological restoration, water resources management, and corporate sustainability. The
Environmental Markets and Finance Summit
is hosted by
Forest Trends
and the 
Alliance for Environmental Markets and Investments
.