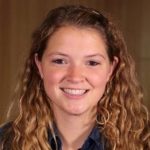 Conservation Finance Lead,
National Partnership Office
USDA Forest Service


Tommie Herbert works with the U.S. Forest Service National Partnership Office in Washington, DC. She leads a team within NPO that focuses on how to unlock and expand funding for healthy forested landscapes through partnerships with private capital. Tommie was a Presidential Management Fellow with State & Private Forestry on ecosystem services and markets.
She worked for the Francis Marion & Sumter National Forest as Realty and Lands Specialist completing a landownership adjustment strategy and analyzing potential for compensatory mitigation to be a tool for cross-boundary restoration. Tommie also served as a Collaboration Coordinator for the Nantahala and Pisgah National Forests plan revision. She has worked with the Forestland Group as a Data and Carbon Analyst and the National Parks Service as a Business Planning Consultant.
Tommie began her career at the Environmental Defense Fund helping grazers in the Chesapeake Bay watershed transition to rotational management for water quality outcomes. She spent three years with Forest Trends supporting incentive-based approaches to sustainable management of working landscapes in Latin America and East & Southern Africa.
Tommie graduated with a degree in Human and Organizational Development from Vanderbilt University and a Master of Forestry from the Yale School of Forestry and Environmental Studies. She is from Fauquier County, Virginia and has an adorable niece and nephew.
Invest in the Environment by attending
this high-level gathering of public, private, and philanthropic communities in forestry, carbon, ecological restoration, water resources management, and corporate sustainability. The
Environmental Markets and Finance Summit
is hosted by
Forest Trends
and the 
Alliance for Environmental Markets and Investments
.