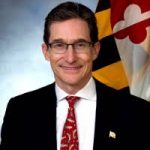 Secretary of the Environment for the State of Maryland
Baltimore, Md.
Ben Grumbles is Maryland's Secretary of the Environment. He was nominated by Governor Larry Hogan in January 2015 and confirmed by the Maryland Senate in March 2015. Formerly: President of the U.S. Water Alliance, an educational non-profit based in Washington, DC and committed to uniting people and policy for "one water".
From 2009-2010, Ben led Arizona's Department of Environmental Quality working on air quality and climate change, energy policy and waste management, water efficiency, and wastewater recycling. Regional priorities included protecting the Grand Canyon, Colorado River, and Arizona-Mexico border environment.
Mr. Grumbles served as Assistant Administrator for Water at US EPA from 2003 through 2008 . He launched EPA's water efficiency labeling program, WaterSense, and initiatives on green infrastructure, water and climate change, and pharmaceuticals. He carried out and defended the nation's clean water, drinking water, ocean, coastal, and wetlands laws and worked on large ecosystem collaborations from coast to coast. He also served as Acting Associate Administrator of EPA's Office of Congressional and Intergovernmental Affairs in 2004.
From 1985 to 2001, Ben worked in the US House of Representatives in various environmental counsel and staff director roles for the Transportation and Infrastructure Committee and Science Committee.
Ben chairs Maryland's Climate Change Commission. He is also a member of the Ozone Transport Commission and the Susquehanna River Basin Commission. Also: National Academy of Science's Water Science and Technology Board. Grumbles is a former member and current supporter of River of Words, a national nonprofit committed to connecting kids to their watersheds and imaginations through poetry and art.
Ben lives in Baltimore and, with his wife and kids, enjoys the wildlife and watersheds of the Chesapeake Bay in Maryland, Virginia, and DC. He was born and raised in the Beargrass Creek watershed of the Ohio River, Kentucky.
Invest in the Environment by attending
this high-level gathering of public, private, and philanthropic communities in forestry, carbon, ecological restoration, water resources management, and corporate sustainability. The
Environmental Markets and Finance Summit
is hosted by
Forest Trends
and the 
Alliance for Environmental Markets and Investments
.